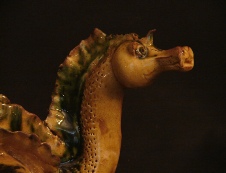 Pied Potter Hamelin
Pottery Demonstrations, Lectures and Workshops

About Rick Hamelin
Master potter Rick Hamelin and Gariné (ga-renée) Arakelian, a third generation artist, have been making pottery together since 1990, the year they got married and moved to Warren, Massachusetts. Gariné's teaching, graphics and museum background have come together in her pottery. A few years ago, she started producing the line of Kulina Folk Art Pottery (Culina is the Latin word for kitchen/oven/kiln and is the root word for culinary). Her lines reflect the designs of antique slipware pottery found here in the United States and around the globe, being inspired by Pennsylvania German, American and European folk art, and everyday objects.
Rick has been potting since 1976 and has been committed to researching in depth the historical Redware potters and clay industries of New England, and especially, Massachusetts. Like Gariné, he had been a teacher and worked in museums. He is also a popular demonstrator and lecturer with over two hundred and fifty completed programs and received over two hundred Massachusetts Cultural Council grants. The Pied Potter Hamelin pottery dates to 1985. Pied Potter Hamelin can be taken linguistically apart and understood as a "Colorful Potter from a Small Town". Pied means multi-colored. Potter is the trade. Hamelin translates into "one from a small town".
The paw prints on the reverse of all the Kulina and Pied Potter plates and platters began by one of their cats simply leaping onto the slab of clay. Rick recalled finding an old brick with a dog print on it and thought that this would be a unique way to create an association between their two products. The running paw prints are copyrighted.
Gariné and Rick thank you for the appreciation that you have for their work. Feel free to call or email them with any questions. Please do call ahead if you are planning to come by, but do note that they don't have a storefront to sell their wares and may not be prepared or available for guests.