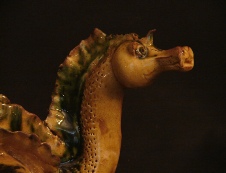 Pied Potter Hamelin
Pottery Demonstrations, Lectures and Workshops

Rick Hamelin's Program Description
BASIC PERFORMANCE:
The duration is 1½ to 2 hours, depending on the audience. This is really an all ages program that has been enjoyed by over 170 audiences over the last 20 years throughout Massachusetts. Several community and senior centers have coordinated inter-generational programs. The Basic Program is done at Senior Centers and Art Centers.


OUTLINE OF THE BASIC PERFORMANCE:
1. Demonstration of the four techniques of how clay is shaped
2. Demonstration of the three shapes necessary to know in order to make the pots thrown on the wheel
3. Damp bowl is passed around and questions taken., while we discuss the definitions of greenware, pottery, etc. I will also discuss how to find clay and the history of pottery making locally and/or regionally.
4. Demonstration of odd pot, could be a double walled pot or a multiple piece pot such as a teapot


5. Demonstration of figural forming such as a

dinosaur, dragon, Bart Simpson, gnome, etc
6. Pinch pottery workshop, depending on the time remaining, and touching the turning pot on the wheel. Pinch pots will be taken home at the end of workshop and can be fired to cone 06-02 if a kiln is available.
7. Finale with Q&A


PERFORMANCE REQUIREMENTS:
My equipment is contained on a cart, so I would need a ramp or lift to get to the location of the workshop. I will bring my pottery wheel, water, clay and additional tools, including a fused multi-strip and 40 foot extension cord. I will lay a tarp and a second vinyl covering on the floor. All I need from you is a standard 15 amp outlet. This program can be performed indoors or outdoors.
Children may need chairs but generally they sit on the floor, horseshoe style, around the wheel. No water is needed for the pinch pot making section of the program. Since this is a very clean program, please don't expect any clay remnants to be left behind. Each venue must have someone in attendance if needed due to an arising emergency. My role is as a guest performer and I cannot be viewed as an agent of the venue.



MARKETING:

I will supply the venue with a number of posters and coordinate other media contacts.



ADJUSTMENTS

are to be expected to this outline in accordance to the actual time that your patrons arrive, since I have experienced up to 20 minutes delay in starting time, and whether the program is a formal sit down audience or an informal pedestrian crowd, such as at a festival. Always incorporated into the performance will be references to the historical clay industries and sources found in Massachusetts. The language of pottery and our use of phrases based on the potters' trade will be explored as well as a short pottery folk tale might be included. The Magic of the Potter's Wheel also discusses how to secure the proper attitude and tools to enhance cultivating your imagination and confidence.


EXAMPLES OF PERFORMANCES DESIGNED FOR SPECIFIC VENUES:
LIBRARY PERFORMANCE:
During this workshop, I make reference to your pottery book selection, which we will review prior to the program, and it is designed to include the MLA Summer Reading program.



SCHOOL PERFORMANCE:
It is very important for me to demonstrate my basic program and I will adjust it to suit class time constraints. I have put together a very successful workshops and I will incorporate throwing specific pots relevant to the current course studies. I have prepared and demonstrated Colonial, Early American, Spanish, German, Chinese, Lebanese and other potteries for many schools. I will emphasize what best incorporates the current studies, including discussing art as a career. Prior preparation with each teacher is very important and class time affects the ultimate performance.



HISTORICAL SOCIETY PERFORMANCE:
I would be discussing and throwing specific wares concerning pots made prior to the year 1900 with discussions about the clay industries historically found in Massachusetts.



OUTDOOR ART FESTIVALS AND TOWN FAIRS:
An informal demonstration would be done that is designed to incorporate the various groups found in attendance. The Basic Performance cannot be done with this type of audience since they will not sit for two hours. I would discuss local history, throw multicultural forms and discuss, if vendors are present, techniques and styles of the pottery being sold at the fair.